I. INTRODUCTION
Currently, only 40,913 students will enter the university in year 2020, and the number will continue to decrease to 373,470 by year 2024 due to the low fertility rate (Ministry of Education). As a result, 120,000 students do not meet the university's current admission quota. A number of universities have conducted online classes in recent weeks due to COVID-19. Many students gave up on their studies due to these online classes, which made it difficult for them to navigate their career paths and lowered their academic motivation. Student dropouts lead to a decrease in the number of students enrolled. Since it is directly related to the financial management of the university, preventing academic abandonment is important for securing the competitiveness of the university. Therefore, many universities are thoroughly managing their students and are making efforts to find reasons why students drop out of their studies(Jung, 2021). Universities located in rural areas are currently experiencing a crisis compared to the ones located in the capital city. In order to avoid closure, universities located in rural areas are aiming to secure competitiveness that helps retain students (Lim, 2019). Particularly in rural areas, where most universities with departments related to cabin crew are located, students abandoning their studies is considered a more serious problem. The intention to continue studying is an important factor related to university evaluation indicators such as student dropout and enrollment rate (Tinto, 1975). This study seeks to identify factors which reduce students' abandonment of their studies and encourage them to continue studying. Applicants to the cabin crew department usually choose their major and career path before entering the university. After admission, students face more difficulties in their major, and satisfaction levels are lower than those in other departments (Min, Kim, and Lee, 2019). Students' intentions to continue their studies can be affected by a variety of factors, and if they are not satisfied with their major, they may give up.
Therefore, this study intends to analyze the relationship between major satisfaction and career maturity through a study on factors that affect the academic continuity intention of cabin crew major students. Based on the results of the study, it is intended to be useful in reducing the dropout rate and increasing the intention to continue studying through the satisfaction of cabin crew major students.
II. BODY
2.1 Theoretical Backgrouond
2.1.1 Major satisfaction
Comparison of students' career paths and major evaluation results in major satisfaction. In addition, it is a perspective of cognitive comparison between alternatives, such as whether one major is better or worse than another (Cranny, Smith, and Stone, 1992). Kim and Ha (2000) defined major satisfaction as "It is the product of a judgment process that evaluates the department to which one is currently affiliated in comparison with the criteria for career or occupation set by an individual" with a focus on the concept of life satisfaction in the cognitive aspect. Besides considering abilities, aptitudes, or interests, students also consider factors such as life satisfaction, motivation to choose a major, academic performance, career development, self-efficacy, and goal orientation when selecting a major. As a result, the importance of major satisfaction has been emphasized (Lent and Brown, 2006). Jung and Park (2009) predicted that major satisfaction would be high if the student himself/herself currently belongs to the department matches their ideal or criteria for future career or occupation. Do, J. I. (2017) categorizes the major satisfaction questions into recognition, subject, general, and relationship satisfactions, which have a positive effect on college life adaptation. Nevertheless, Lounsbury et al. (2003) viewed the constituent factors of major satisfaction as a single element and explained the concept of major satisfaction as being comparable to job satisfaction.
2.1.2 Career maturity
Fouad (1988) defined career maturity as the degree of readiness that an individual can slive when faced with career-related problems presented in their age group. Oh (2008) said that career maturity is a comprehensive concept about the degree to which an individual has a completed consciousness when considering a career path. Jo and Park (2017) described career maturity as the degree to which an individual develops an attitude to choose a career after planning and setting a career direction. Park (2018) defined career maturity as the degree to which one is prepared to solve and cope with career-related problems in the developmental stage, and the sub-factors were planning, attitude toward work, self-knowledge, and career behavior.
2.1.3 Intention to continue studying
As described by Shim (2003), the intention to continue learning is the desire to continue the current learning process. And in the study of Grier-Reed et al. (2012), learning continuity intention was related to participation attitude, goal achievement, career self-efficacy, and future orientation. Learning intentions include the desire to learn, overcoming temptations or competitive tendencies that impede learning, and the ability to continue learning activities, including effort, perseverance, and attention (Yoo, 2014). Intention to continue study refers to the intention of a student to enroll in the next semester in order to continue their studies at the university they are currently attending. This has been confirmed as the best predictor of academic continuity through research by several scholars (Choi, 2014). Jung (2021) analyzed factors affecting the academic continuity intention of small local private university students, and defined the intention to graduate at the current university as academic continuation intention.
2.2 Research Design
2.2.1 Research model and hypothesis
An (2016) found that students' major satisfaction had a significant effect on leave of absence and dropout. In the study of Eo (2011), the higher the satisfaction with career counseling, the higher the major satisfaction, and the higher the major satisfaction, the higher the career maturity. Jung et al. (2013) investigated the effect of career maturation on students' college life adjustment and academic continuity intention, and found that career maturity affects the intention to keep studying, followed by self-esteem and academic self-efficacy.
Based on the results of the previous studies above, the following hypotheses were established (Fig. 1).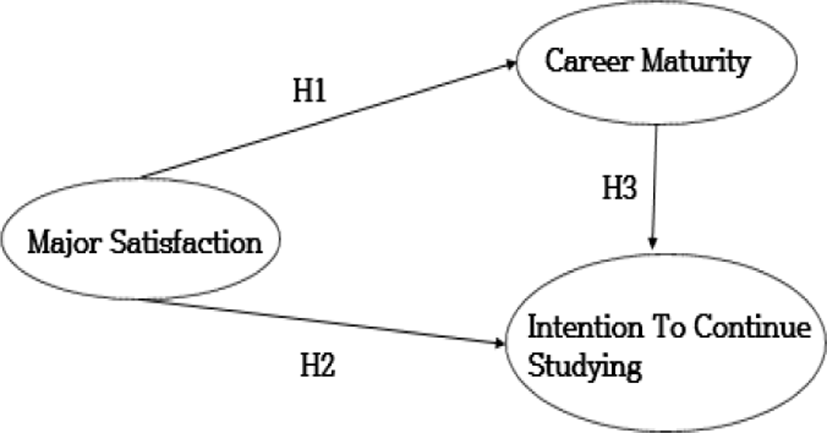 Download Original Figure
2.2.2 Operational definition and measurement of variables
The questionnaire in this study consisted of three factors: major satisfaction, career maturity, and intention to continue studying, and the measurement itmes were composed based on previous studies. The major satisfaction measure was defined as the degree of satisfaction with recognition and preference of cabin crew department students' major. And the questionnaire items were modified and supplemented to fit the purpose of the study based on the literature review, and consisted of an 8-item Likert 5-point scale. Career maturity was conceptualized as the degree to which cabin crew department students developed an attitude to solve and cope with career-related problems, set their own career direction, and independently decide their career path. The questionnaire was reconstructed to match this study and measured on a 23-item 5-point scale. A four-item Likert 5-point scale is used to measure intention to continue studying at the university where the cabin crew department student currently attends, and to enroll in the following semester.
In order to collect data for the study, a questionnaire was administered to cabin crew students at four-year universities nationwide, and data was processed through SPSS 21.0.
First, a frequency analysis was conducted to find out about the general characteristics of the subjects. Second, exploratory factor analysis was performed to analyse the validity of the measurement tool, and Cronbach's α coefficient was used for eliability analysis. The third step was to conduct a correlation analysis to determine a relationship between the major variables. Fourth, regression analysis was performed to verify the hypothesis.
III. CONCLUSION
The hypothesis results of this study are summarized as follows. First, major satisfaction was associated with determinism, purposefulness, certainty, readiness, and independence, which are sub variables of career maturity.
The results indicate that major satisfaction is an important factor in enhancing career maturity for cabin crew department students with a good grasp of the major and a sense of satisfaction with the chosen major. Thus, the department should develop values and provide interesting education. Moreover, a curriculum that identifies and reflects the needs of students will be required. Second, academic continuity intentions were significantly influenced by major satisfaction. For cabin crew department students to be able to continue their studies at their university, their major needs to be satisfactory.
In other words, improving major satisfaction can help with academic continuity. The creation of non-curricular programs, major-specific industry-academic programs, and providing field experiences and practical training will increase major satisfaction. Third, career maturity affects the intention to continue studying, and determinism, readiness, and independence were all found to be significantly influenced by each sub-variable. Therefore, to improve career maturity, departments should provide information about career paths to airline employees or graduates so they can plan and prepare for the future, and instill confidence to choose careers based on their beliefs.
Through these results, it was possible to establish that major satisfaction and career maturity are important factors influencing the intention to continue studying. Students' academic continuity intentions were presented, as well as the basic data needed for the follow-up study.
A limitation of this study is that the subjects of the survey were only students from the cabin crew department of a 4-year university. Therefore, it will be a good guide if the scope of future research is expanded to 2-year colleges. In addition, it will be more meaningful if research is conducted on any differences according to gender, grade level, or school type.